Breeders - British Columbia
---
Disclaimer: The BTCC neither endorses nor has any responsibility for or knowledge of the suitability or content of any web pages that are listed here. In particular, the inclusion of any breeder's pages or commercial site does not imply that the BTCC is connected with, recommends or agrees with any information or products you may find at the linked site. We do make every attempt to exclude offensive content. Surf at your own risk. Clicking on any of these links takes you outside of the BTCC (this) web site.
The listed breeders are members in good standing with the Boston Terrier Club of Canada but in no circumstances does the Boston Terrier Club of Canada guarantee the services of said members.
The listed breeders are members who have bred at least one litter in the past year.
---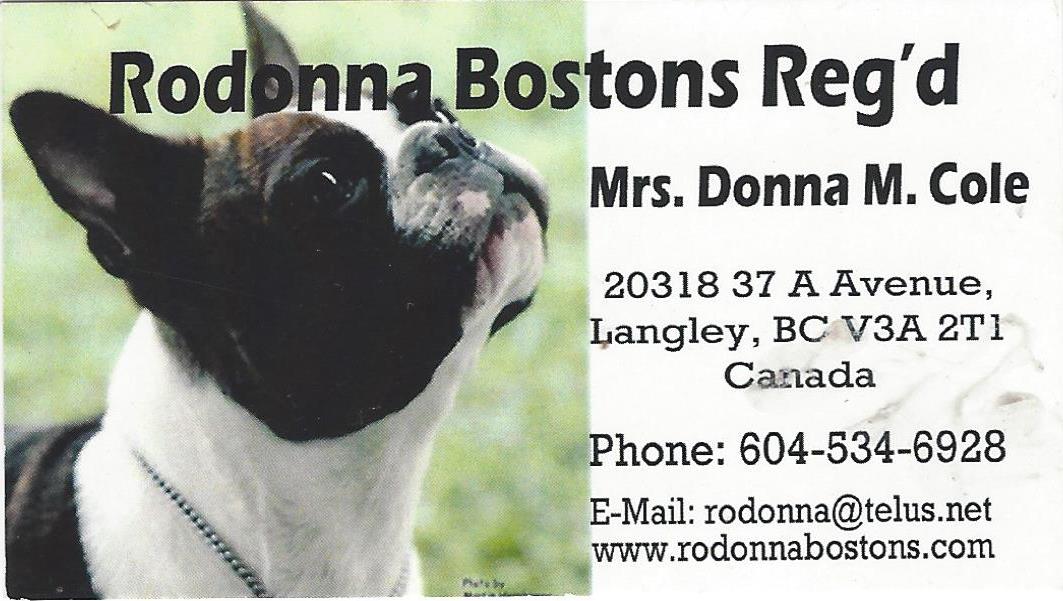 Rodonna Reg'd
Mrs. Donna Cole
Langley , BC
Telephone: 604 534 6928
Teresa & Mike Brereton,
Bostons & Show Handling,
Aldergrove, BC.
Telephone:604-857-2652
Email:
mtboston@shaw.ca
---
Vanassau Kennels, Reg'd.
Heather Meikle
Hope, BC (formerly of Chilliwack)
(604) 860 2330
Email:
albury@shaw.ca
---
Dorkay Kennels
Kathy McCracken
10111 KcKinnon Crescent
Langley, BC V1M 3V4
Telephone:(778) 298 - 6254
---
Kaliska Kennels
Donna Corby
Duncan, BC
Telephone:(250) 701 - 6770
---
Luvaluv Bostons
Lisa Ylikangas
Campbell River, BC
Telephone:(250) 286-6676